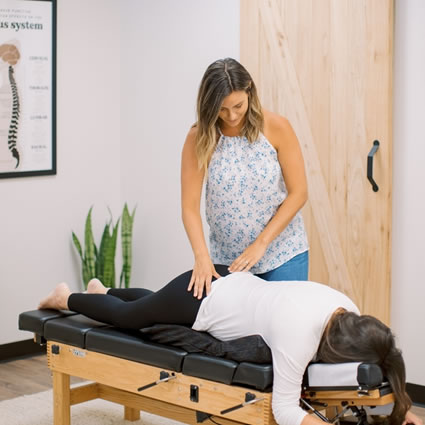 Family Chiropractic Care
Dr. Shaina believes health is really about one thing—function. How well you function determines how truly WELL you are. True health and wellness is more than just "feeling good"; it's about functioning at your optimal potential, to truly heal and FEEL how you're designed to.
Our focus is on holistic healing, not only through neurologically based chiropractic care, but also to help you and your family create healthy food habits and connections in your life. It's our job as parents to help raise the next generation of healthy children. A family that gets healthy together, thrives together.
How It Helps You
All natural chiropractic is a safe, and effective method to achieve whole body health and wellness. Working with your nervous system, chiropractic locates areas where the communication between the brain and body has been interrupted. This may cause misalignments, pain, and other symptoms.
Using a variety of chiropractic techniques, Dr. Shaina corrects the misalignment, relieving the pain and restoring function to the affected area. She uses diversified, the most widely used technique, Thompson Drop Table, Logan Basic, Activator®, and sustained contact. She also does cranial work for younger children, and is certified in Webster technique for pregnant moms.
Our patients have seen results in conditions such as
Headaches/Migraines
Back and neck pain
Extremity pain
Sciatica
Posture/balance issues
Pregnancy discomfort
Pediatric issues
Allergies/Asthma
ADHD
Immune system challenges
Constipation
And more
What to Expect
Dr. Shaina will discuss what's going on with you and dig deep to find issues that might be unknowingly affecting your condition. She also takes a detailed health history before doing a physical exam and INSiGHT™ scans.
When you return for the report of findings at your next visit, Dr. Shaina goes over your results, what they mean, and how we plan to correct them. If you're ready to proceed, you'll receive your first treatment today.
Take Advantage of Our New Patient Special, Only $85!
Get a consult exam and scans for only $85. Contact Embrace Family Chiropractic today and make an appointment to get the care you deserve.
CONTACT US »

Chiropractic Care | (513) 828-5459